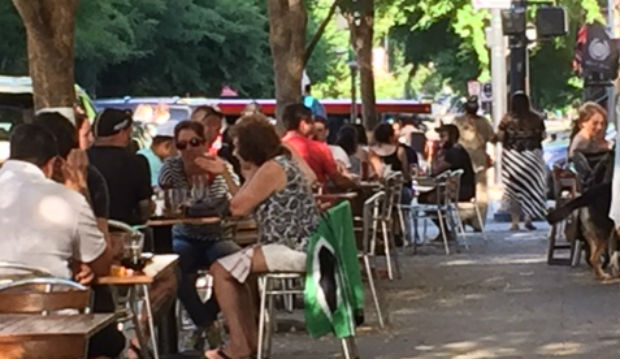 In the past several weeks, restaurant and bar owners in Glenwood South have joined other business proprietors across downtown to put public pressure on City Council to defer approving what they view as a hastily prepared change to the City's Outdoor Dining Ordinance. The proposed change to the ordinance seeks to restrict bar patrons from drinking on public sidewalks outside downtown bars.
Council agrees to defer decision for 30 days
City Council has agreed that the ordinance change as initially drafted unfairly targets a small number of bars and has thus deferred their decision, sending the issue to the Law & Public Safety Committee for further review.  A new Hospitality Committee that includes both residents and merchants is now working with City staff to develop alternate proposals.
Meeting weekly, the Hospitality Committee has already agreed on the need for any ordinance change to apply equally to any restaurant or bar (private club) that serves alcohol outside to patrons during late night weekend hours or during special events.
New proposals address sidewalk overcrowding
Many downtown merchants whose businesses focus on late night support the following proposals:
Restricting the dining footprint to the building side of the right of way
Delineating the dining area with stanchions
Requiring merchants to provide oversight and security for their outside dining areas
What is the basis of the concern?
Many people agree with Councilor Mary Ann Baldwin, who says "There are too many people on the street at 2:00 in the morning."  With this in mind, new proposals address ways to improve mobility and alleviate late night traffic congestion.  Glenwood South also continues to work to address late night noise concerns through their City-supported Hospitality District Ordinance which focuses on a system of communication between residents and businesses.
Some argue that the proposed change to the Outside Dining Ordinance appears to have been raised by a small but vocal minority of residents, who see the only answer to late night noise as limiting the number of people engaged in downtown nightlife after 11:00pm.
This indyweek.com article summarizes the situation this way: "As downtown shakes off adolescence and embraces young adulthood, the question of what it should look like will only become more pronounced."
Niall Hanley, owner of the Hibernian Irish Pub and the upcoming Raleigh Beer Garden, joins the discussion, saying, "There's been explosive growth. You're gonna have growing pains. Somebody may have bought a condo 15 years ago when they were young and single. They're a different person now that they have kids."
Small cities across the country face similar challenges.  It's part of balancing a vital life style that maximizes the opportunities for both residents and businesses existing shoulder to shoulder at a time when people of all ages are thronging to downtowns to enjoy all the choices that urban environments offer.