by Jim Belt  
The Glenwood South Neighborhood Collaborative was formed nearly four years ago to provide a platform facilitating residents and merchants working together to pursue projects and initiatives designed to foster growth and connection within the neighborhood.  By tapping into the strength of this high density residential and commercial district, the GSNC's mission was to maximize the vitality and appeal of Glenwood South for both residents and visitors.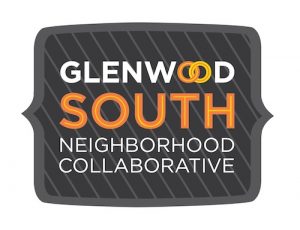 From the beginning, there was no shortage of ideas of what might be accomplished, but many proposals that popped up had not been tried elsewhere in the city.  Clearly, the neighborhood needed a champion on City Council; someone who could both appreciate the benefits of what the GSNC was banding together to do as a community, and someone who could just as critically, help to guide the neighborhood through the city rules and ordinances that inevitably arose.
Following the success of public art projects (Tree Sweaters, Scarf Trees, Crosswalk Art), Glenwood South naturally looked again to neighborhood champion … Mary-Ann Baldwin.
Thanks to Mary-Ann's involvement three years ago, the neighborhood was able to get daytime parking restrictions lifted along sections of Glenwood Avenue as a means to improving walkability by slowing down commuter traffic, as well as opening up new customer parking places for local businesses.
Then two years ago, with Mary-Ann's support the City Council created a new ordinance that established the Glenwood South Hospitality District, allowing the neighborhood to better manage noise disturbances by providing clarity on late night outdoor music noise levels, and the adoption of a new approach to encouraging communication between residents and business owners to resolve conflicts.
And finally, this year Glenwood South will be a brighter place over the holidays thanks to Mary-Ann, who led the way for the neighborhood to get the financial support needed from the DRA and others to provide holiday lights and banners along Glenwood Avenue.
There's an energy in cities where neighborhoods are empowered to create public art and consider new ideas for bringing together community.  This runs in the face of how cities are commonly governed to avoid precedent-setting activities that garner risk and the possibility of problems down the road.  It takes leadership like Mary-Ann's that slices through the resistance that keeps everyone in their lanes.  Thanks to her, Glenwood South is thriving and well and continuing to consider ideas for residents and merchants working together to create the downtown community of which they dream.
Thanks, Mary-Ann for your support in getting us launched.  The GSNC looks forward to the continuing creativity and responsiveness that is sure to follow in your footsteps.