The wait is over.  On September 2, Pharmacy Market will be swinging open its doors to a 7 day a week full service pharmacy, groceries and produce, freshly made sandwiches, household staples and  beauty items, as well as a range of beer and wine.  Twenty parking places will be available off North Street, free for 30 minutes, and you can have a seat on the covered sidewalk terrace to watch people go by as you wait for your prescription to be filled.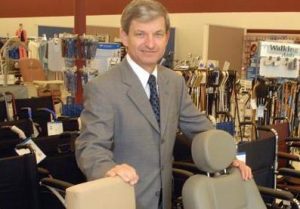 For Tony Gurley, a long time pharmacist in Raleigh, who bought land for his Blue Ridge Pharmacy across from REX Hospital from Joe Myer of Blue Ridge Realty back in 1985, the opportunity to move into Glenwood South was too good to pass up.  As a Wake County Commissioner and having worked a year in the governor's budget office, Tony had his ear to the ground.  And he heard again and again of the need for amenities for downtown residents who want to walk to pick up what they need at the end of a busy day. 
A pharmacy AND a market?  Tony's inspiration was the European model, where workers drop by a location near their neighborhood transit stop to purchase what's needed for supper, and in the process can also get the odd paper good, beauty product or prescription.  He also thinks of the Walgreens at Times Square. For Glenwood South, this officially turns us into the urban style neighborhood that many of us have long awaited.
Tony is a neighbor.  He moved to Cameron Village with his wife, Robin a few years ago, thinking that it might be a good time to slow down.  But that was not to be.  When his old friend Joe Myer popped up with the first floor space at the Gramercy Apartments, Tony had a vision of working together with Robin (also a pharmacist) for the first time.  They already see themselves as a part of the Glenwood South community, reaching out to the diverse populations that fill our streets.  They want to make a difference here to people of all ages and backgrounds.  And they want to be good neighbors.
For Tony that means listening closely to what his customers want.  He welcomes residents to give him their input.  He knows that this model that started in Europe and NY City will take on strains of Glenwood South.  What do we need at the end of the day?  What do we want at our fingertips, so that we don't have to get into our cars to fetch necessities?  These are the things he wants us to tell him.
This is what you need to know:
Tony's presently hiring 25 full and part time positions.  Go to indeed.com to review the positions and share your information.  He'll be starting to hire next week.
The store will be open daily 7AM – Midnight, (pharmacy 9AM – 7PM), Noon to Midnight on Sunday (pharmacy Noon to 5PM).
Come to the Grand Opening on September 2 and meet Tony and Robin, and the new team. They are already making a difference, just by investing their vision and commitment in Glenwood South. Stop by to thank them for hearing your wishes.