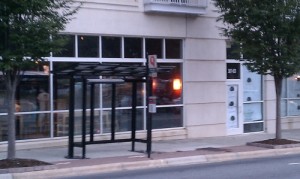 The Downtown Living Advocates has adopted the R-Line (R9) bus shelter located at the corner of Dawson and Morgan Streets.
The City's shelter adoption program began in September, and the DLA quickly volunteered to be one of the first adopters.
About the Adopt-A-Shelter Program

Adoption requires maintaining the shelter and assisting in removing trash in and around the shelter area on a monthly basis.  The City of Raleigh provides trash bags, disposable gloves and safety vests to assist in the trash removal around adopted shelters.  Volunteers are also asked to notify City of Raleigh staff of any special maintenance needs and report vandalism or suspicious activity.
Residents can sign up for a one-year commitment to keep the adopted bus shelter clean for CAT riders, and all of the 184 bus shelters throughout the City of Raleigh are available for adoption.
Code for American web application makes signing up easy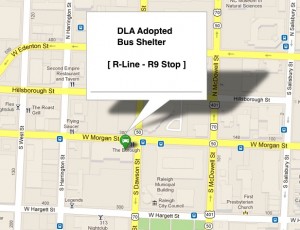 Code for America has stepped up to offer an interactive web web application to encourage participation in this City program.  The online application displays which Capital Area Transit (CAT) bus shelters are available for adoption.
The URL for the app is http://adoptashelter.raleighnc.gov/
Code for Raleigh includes volunteers from
CityCamp Raleigh
, who advocate for existing applications and technology created by Code for America, a national non-profit focused on improving government through technology.
.
Race for Reuse Campaign targets 20 adopted shelters by December 6th
The Raleigh brigade has entered the Code for America Race for Reuse campaign, which is looking to have 20 new shelters adopted by December 6 to meet its success criteria.
We think we can double the existing adoption rate from 20 adopters to 40 adopters during the campaign," said Jason Hibbets, a Code for Raleigh brigade captain. "Over the coming weeks, we hope to drive awareness of the bus shelter adoption program and host a 'civic-athon' on December 1 to sign-up new users, add new features and create Triangle Wiki pages about each adopted shelter.
Civic-athon Event December 1st
Register today and save the date for Saturday, December 1 to Adopt a Raleigh bus shelter and address bug/feature requests to the web application.  The event will be located in downtown Raleigh, but the exact location has not been announced.