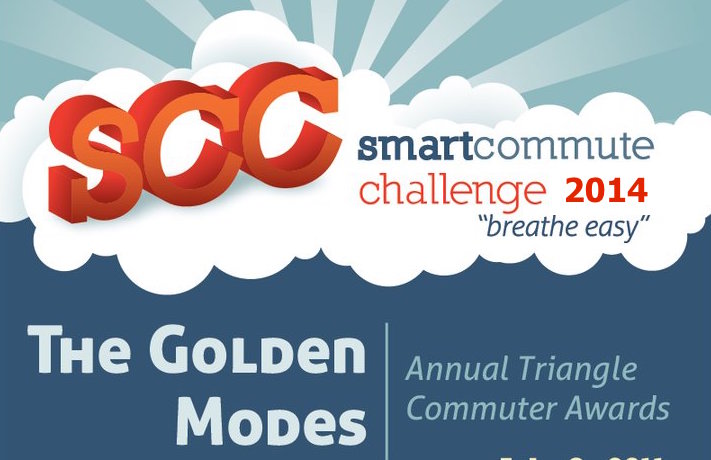 Each year the GoTriangle Golden Modes Award honors extraordinary organizations that promote sustainable transportation options as part of the SmartCommuteChallenge public service campaign.
This year the Downtown Living Advocates received an Honorable Mention Award for supporting a variety of alternative transportation projects.
"Because of the DLA's goals and leadership, and the great partnership with the City of Raleigh, downtown residents are given great opportunities to learn about transit opportunities, Zipcar memberships, safe cycling techniques, and other opportunities the City of Raleigh has to offer".
Car Sharing: Helping to bring the first car sharing service (WeCar) to Raleigh, and promoting the use of ZipCar – Carsharing is back in downtown Raleigh.
Bus Ridership: Inviting the City of Raleigh to do a presentation to our members "Bus Transit for Downtown Residents – Beyond the R-Line".  The DLA was also an early adopter of the city's downtown bus shelter program, adopting the R-Line (R9) bus shelter at the corner of Dawson and Morgan Streets.
Bicycle & Pedestrian: Speaking with City Planners about the "Complete Streets" – Committed to supporting a bicycle and pedestrian friendly Raleigh.  And more recently, as the City of Raleigh started to plan Bike Month, the City approached the DLA to help with a collaboration of events, which included a ribbon cutting of the new Art to Heart bike greenway.
Other examples of successful collaborative efforts between the City of Raleigh and the DLA include a number of CommuteSmart Raleigh Mixers where attendees received information about about alternative modes of transportation.
Currently the DLA is preparing to launch a Walk Your City Campaign to encourage government employees in the Capital District to walk to download locations to dine and shop instead of driving.