Joseph Szabo, the head of the Federal Railroad Administration, visited Raleigh's warehouse district this morning to announce that the Federal Government had awarded Raleigh with the final amount of funding needed to complete the cost of a $60 million replacement for Raleigh's Amtrak station.
$43 Million: Federal
$ 9 Million:  State
$6 Million: City
$2 Million: TTA
$60 Million: Total
The first phase of Union Station will be in the former Dillon Supply Viaduct Building near the corner of West and Martin streets, just a block from the planned Citrix Systems headquarters office, and around the corner from the BEST Raleigh mural now being painted by a group of local artists.
This first phase of the city's Union Station project will serve as Raleigh's new Amtrak depot, replacing the cramped and busy station a few blocks away on Cabarrus Street.  Project design will begin in January, with construction starting in January 2014.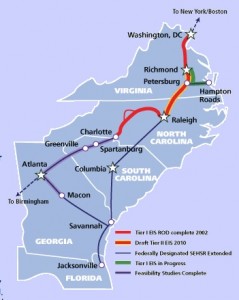 Planned expansions in the future would establish Union Station as a hub for commuter trains between Durham and Raleigh as part of the Wake County Transit plan.  As you may recall, funding for the transit plan was delayed by the recent decision of the Wake County Commissioners to put off having a referendum on the transit bond.
Eventually, Union Station could also serve as the hub for inter-state High Speed Rail  (route pictured here) and a local Light Rail service that would run between Raleigh and Cary.
Associated posts:
County Transit Plan Moving Forward