SPARKcon and BEST Raleigh are joining to invite children of all ages to come and make their mark on downtown Raleigh!
Where: Dillon Supply Co building at 210 S. West St.
When: Friday and Saturday, September 14 – 15 (10:00AM – 3:00PM)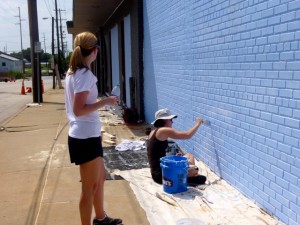 Forty different volunteers have shown up on the 200 block of S. West Street in the last two weeks, all with the same goal in mind: to prepare 200 feet of facade on the Triangle Transit-owned Dillon Supply Co. building for a mural celebrating how we move forward together.
When artists Jason Craighead and Patrick Shanahan envisioned the design that begins with children's handprints and explodes into a skyburst of flying machines before settling back down into rolling North Carolina countryside, they had no idea of the sparks that would fly even before the first little fingers touched the mural.
As SPARKcon suggests, these are sparks of imagination, connection and empowerment…  BEST workers were joined on one day by a man with thirty years of painting experience who couldn't deny his urge to show us tips on how to prime the crannies of the brick.  Three volunteers had just moved to Raleigh and saw this work as a way to network.  In other cases, friends who had lost touch with each other found themselves drawn by a common goal, to make a difference in their community.  Many returned day after day so that the wall would be ready in time for the children to come.
And now we're ready.  We invite you to bring your children of any age to make handprints and create body tracings that will seed this mural that honors our passage from individual dreamer to community transformation.
 REASONS TO DROP BY:
This is an opportunity for families to encourage their kids to use their creativity to make a lasting mark on their community.
Triangle Transit will answer questions about their plans for the future affecting the Warehouse District and the region.
Entertainment by local artists and musicians
Sign up to volunteer for BEST!  We need your skills to continue this work!
For more information about the BEST Dillon Project visit www.raleighemergingspaces.com