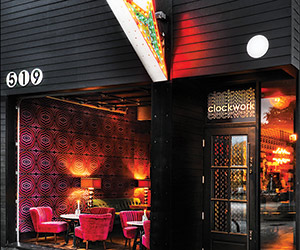 More and more people are finding themselves like me, apologizing as we look up at a waiter asking questions like, "Is the flour organic?" "Is the filet grass-fed?" There are jokes about consumers like us, but food allergies aren't funny at all, if you suffer from the effects of chemicals and additives.
Surprisingly, I found the answer to all my questions at the DLA's Battle of the Pizza, an event held in June to welcome new residents at 927 West Morgan Street Apartments.  The winner of the pizza taste-off and owner of Clockwork, Souheil Al-Awar, has turned his zeal for fresh, chemical free ingredients into a creative menu that would suit any palate.  He explains, "I can eat here because it's all homemade and fresh.  It's like eating in your own kitchen.  Food takes a little longer to prepare because it is made from scratch.  If you order an organic salad with the Orange Vinaigrette, the vinaigrette is made at the time of the order.  Fresh grated orange peel, olive oil….. "  Everything isn't farm to table because some ingredients are just better from Italy or abroad.
Many are attracted to the restaurant at 519 W. North St. because of its fresh-made cocktails and hip decor that blurs the line between inside and out, but for me the fresh, unique menu is the real jewel.  Now more than 90 days preservative free, I love how I feel and it's bliss to be able to walk around the corner from where I live on Glenwood South and enjoy a meal that ensures that I'll keep feeling as good as the food tastes.
At the DLA's pizza contest, residents at the Morgan St. apartments voted overwhelmingly for both Clockwork's vegetarian pizza, Tri Me (with a cream sauce base, topped with sliced jalapenos, mandarin oranges, pistachios, and mozzarella) and the meat lovers pizza, The Two O'clock (with local pepperoni, local sweet Italian Sausage, local organic flour, and homemade tomato sauce with mozzarella.)  Al-Alwar says that the most popular items he sells include his tacos, falafel, chicken, carnitas, NY strip and mahi mahi.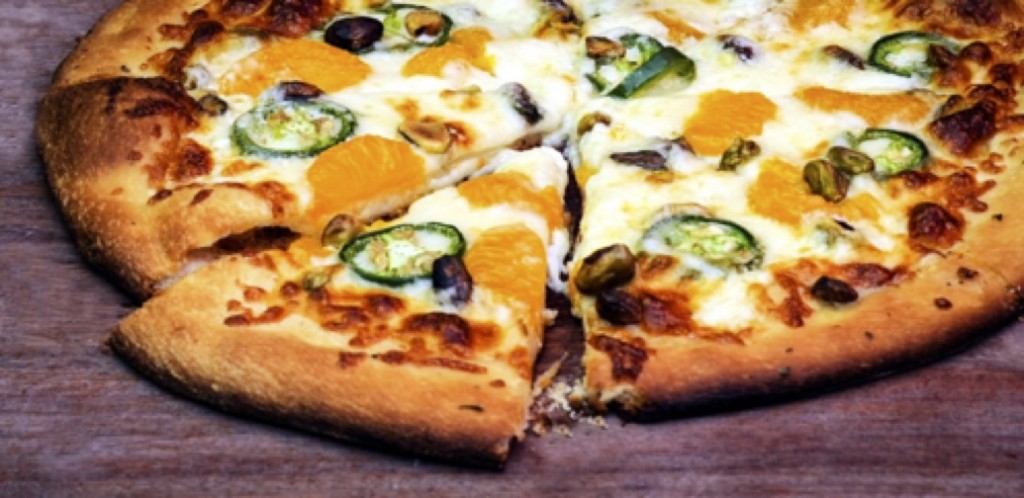 Clockwork now offers a 20% discount to Downtown Residents on Sunday and Monday nights. (This discount applies to the food only.)
See you at Clockwork and especially on a Sunday or Monday night!
Cheers!
Written by Tracy Barnes
Also check out this recent article on Clockwork's interior design, Retro Rebirth at Clockwork.