By Donna Belt
Sometimes my husband and I look out from the porch of our fourth floor condo at 510 Glenwood and muse over how the neighborhood appears to be a stage set, with additional buildings entering the scene with regularity.  Each addition inevitably transforms the neighborhood as new residents arrive with fresh ideas, but this is doubly true of business owners who back their visions with investment in restaurants, shopping and services that largely shape how we define ourselves on the street.
Ideally, there is a respect and incorporation of the history of what has gone before, while bringing an innovative twist.  Shervin Tahssili, the new owner of Helios that reopened early on the icy morning of Monday, January 25, describes this as a RESET.  Having lived in Raleigh since 1993, he had long admired Steve Schuster's 2002 trendy redesign of the Helios building that was ahead of its time as one of the first privately owned coffee shops in downtown Raleigh.
When the building unexpectedly came on the market, it ignited Shervin's vision for how he could update and, well… reset this landmark on Glenwood South.  Marrying a life-long zest for warm, inclusive hospitality and a passion for design, he envisioned a space that could serve as a social club from 7AM, right through the day and into the night (till 2AM.) 
With a world wide background that brought him to Raleigh via cities like Boston and Vienna, he imagined an up-lit garden courtyard where visitors could sit to enjoy the street scene, while the back would provide a private Tuscany alleyway where guests could tuck away with an expresso during the day or a Scotch later in the evening.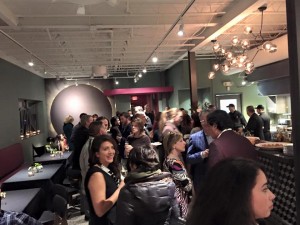 With the assistance of designer Christine Rosario, Shervin set about creating a space where the bar extends outside to unify indoor and outdoor areas.  This integrating concept echoes in stained glass windows Shervin designed to let in filtered light and complement Lisa Gaither's mural on the C. Grace building next door.  Tables from a small antique store in High Point and comfortably stylish chairs create a Zen living room crowned by a large, calming circle that dominates the back wall.
Samad Hatchby (of Babylon) concludes that the new Helios looks like the lobby of an upscale boutique hotel and adds that the expresso is great.  Brian Burnett (of Glenwood South Tailors & Alterations) is taken with the food, describing the Chicken Caesar salad as having… "great chicken to dressing ratio and beautiful color," declaring that "Shervin is taking care of everyone! Fantastic music, courteous staff, business-friendly vibe, and strong WiFi makes this my new command center away from command center!" 
What particularly impresses my husband and me is how the space manages to feel sophisticated and urban, yet is at the same time comfortable and welcoming.  Like the old Helios, it's a place where people can pull up a chair with their laptop and coffee and stay for the day, enjoying locally sourced food.  But at 5:00, the lights dim, the music sways and there's excellent incentive to linger, gathering with friends to celebrate the end of the work day.
Our neighborhood stage set has morphed again, this time influenced by Shervin's visionary flair and elegantly comforting hospitality.  We look into this mirror at who we are and know that Glenwood South is definitely trending in the right direction.